Greeting
Organized by Tama Art University and started in 1995, the Tokyo International Mini-Print Triennial marked the 4th exhibition as a commemorative event to celebrate the 70th anniversary of the founding of the University. It is a great honor for the executive committee of the triennial that we received as many as 1,105 entries from 81 countries and regions.
Particularly, the 4th exhibition, an invitational competition mainly for selected artists from the past triennials, marked an internationally high standard of the entries. Through the exhibition, we can definitely recognize the prospering print art scene of the world. A number of works with various viewpoints of art, presented by each artist, have made this exhibition significant toward the future situation of the world we live in.
Today sees the rapid development of science technology, and the diversification of values. Accordingly, the artistic expressions have also become varied. We can say that among various art media, print art is an artistic manner open to the future in the sense that the general technical evolution will surely bring out new expressions of the genre.
The past and current Triennials have demonstrated that print art is a prominent expressive medium of art beyond places and languages, which can bear the fruit of international exchanges. I hope that appreciation of the entries will deepen even more the conversation of people from the world and promote understanding and friendship among them.
We would like to extend our deep appreciation to the many artists who exhibited their works and other people concerned, including jurors and the administrative staff, for their cooperation and support in making this exhibition possible.
TAKAHASHI Shiro
Chairman of the Executive Committee /
President of Tama Art University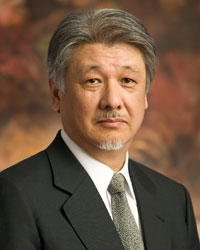 contents

A Message for TIMPT 2005
(Chairman of Board of Directors, Tama Art Univ.)
Greeting
(Chairman of the Executive Committee)
Staff